2021 was another great year of reading. I am so thankful for the gifts of books and eager to get into some new ones in 2022. Some of these were re-reads, some were audio, and some we read aloud together as a family.
Here's a few highlights from 2021:
Most Culturally Insightful Book
"The Rise and Triumph of the Modern Self" by Carl Trueman was most culturally insightful book I read this year. He puts his finger well on what is going on around us and how we got here. It was a hard read, but worth it; his insights have really helped me think about the culture around me.
Most Spiritually Helpful Book
As a family we read aloud a book called "Taking Root: Devotional Stories about Conversion" by Diana Kleyn. I loved the stories (true stories) and the questions and talking points I had with my children through it.
Best Historical Book
I think "We the Fallen People" by Tracy McKenzie was the best historical book I read this year. He helps us see how the Founders viewed human nature–VERY different from how we do today–and the danger of populism.
Most Fun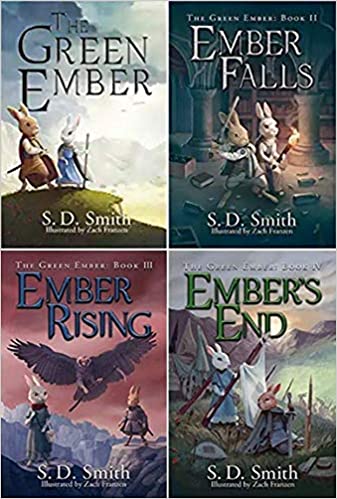 We read aloud the "Green Ember" series by S.D. Smith with our kids this year. Great stories and a lot of fun to read together.
LIST OF 2021 READS:
"Becoming a Pastor Theologian" Edited by Todd Wilson and Gerald Hiestand
"The Wingfeather Saga: The Monster in the Hollows" by Andrew Peterson
"An Ark for all God's Noahs" by Thomas Brooks
"Heidi" by Johanna Spyri (read aloud as family)
"The Rise and Triumph of the Modern Self" by Carl Trueman
"The Wingfeather Saga: The Warden and the Wolf King" by Andrew Peterson
"Charles Simeon of Cambridge" by Hugh Evans Hopkins
"The Pilgrim's Progress" by John Bunyan (audio, reread)
"The Science of Virtue" by Mark R. McMinn
"Why Johnny Can't Preach" by T. David Gordon
"The Privy Key of Heaven" by Thomas Brooks
"The Stranger" by Albert Camus
"The Scarlet Letter" by Nathaniel Hawthorne
"The Wingfeather Saga: On the Edge of the Dark Sea of Darkness" (reread; read aloud as a family 1st time)
"Against God and Nature: The Doctrine of Sin" by Thomas H. McCall
"Worldly Saints: The Puritans as they Really Were" by Leland Ryken
"The Time Machine" by H.G. Wells
"The Final Days of Jesus" by Andreas Kostenberger and Justin Taylor
"How to Reach the West Again" by Tim Keller
"Heaven on Earth" by Thomas Brooks
"Confessions" by Augustine (reread; audio)
"The Heart of the Church: The Gospel's History, Message, and Meaning" by Joe Thorn
"Christian Meditation" by Edmund Clowney
"Founding Brothers" by Joseph J Ellis
"Grace to the City: Studies in the Gospel from China" Edited by S.E. Wang and Hannah Nation
" The Character of the Church: The Marks of God's Obedient People" by Joe Thorn
"The Life of the Church: The Table, Pulpit, and Square" by Joe Thorn
"Benjamin Franklin" by Edmund S. Morgan
"All of Grace" by Spurgeon (audio)
"The Pastor as Counselor" by David Powlison
"Spiritual Leadership" by J. Oswald Sanders
"A Cabinet of Jewels" by Thomas Brooks
"Virtual Reality Church" by Darrell Bock and Jonathan Armstrong
"Deacons" by Matt Smethurst
"The Mind of the Maker" by Dorothy Sayers
"Swift and Beautiful" by David B Calhoun
"Bible" by God (reread)
"The Green Ember" S.D. Smith (read aloud as family)
"Christianity at the Crossroads" by Michael J. Kruger
"Brothers, We Are Not Professionals" by John Piper (reread)
"Phantastes" by George MacDonald (reread)
"The Hiding Place" by Corrie Ten Boom (audio; reread)
"Green Pastures: A Primer on the Ordinary Means of Grace" by J. Ryan David
"Surviving Religion 101" by Michael J. Kruger
"The Lost Fleet: Dauntless" by Jack Campbell
"The Screwtape Letters" by C.S. Lewis (reread)
"The Abolition of Man" by C.S. Lewis (reread)
"The Hobbit" by Tolkien (reread; audio as family)
"The Mortification of Sin" (abridged) by John Owen (reread)
"Things Unseen: A Systematic Introduction to the Christian Faith and Reformed Theology" by Machen
"Ember Falls" by S.D. Smith (read aloud as family)
"When God's Voice is Heard: the Power of Preaching" edited by Christopher Green and David Jackman
"Taking Root: Devotional Stories about Conversion" by Diana Kleyn (read aloud as family)
"We the Fallen People" by Tracy McKenzie
"Beowulf"
"God and the Transgender Debate: What Does the Bible Actually Say About Gender Identity?" by Andrew Walker
"Am I Just My Brain?" by Sharon Dirckx
"Created to Draw Near" by Edward T. Welch
"The Crown and Glory of Christianity" by Thomas Brooks
"Discipling" by Mark Dever
"Dune" by Frank Herbert (reread)
"The Pastor Theologian" by Gerald Hiestand and Todd Wilson
"Bearing Fruit" by Diana Kleyn (read aloud as family)
"Robert Murray M'Cheyene" by Andrew Bonar
"Ember Rising" by S.D. Smith (read aloud as family)
"The God Who Became Human" by Graham A. Cole
"The Golden Key to Open Hidden Treasures" by Thomas Brooks
"Providence" by John Piper
"Ember's End" by S.D. Smith (read aloud as family)